How to Download Music from YouTube?
2023-08-02
YouTube is one of the promising video sharing websites, and you will find it provides you with a remarkable degree of videos that you can watch on a wide range of devices and platforms. However, what if you want to download music from YouTube? Well, ListenToYouTube is an excellent option from that perspective. 
There are different perspectives from which you can look at this question. YouTube videos have been created by a professional after a huge painstaking effort. They would definitely want to monetise their videos and earn from them. From that perspective, if you download those videos and watch them offline, they lose an important customer. That is exactly why YouTube does not let you download your videos. 
So, is downloading YouTube music legal? Technically speaking, downloading YouTube music is not illegal. It is completely legal to convert a YouTube video into MP3, but downloading copyrighted content is illegal. As per the US law, using a YouTube downloader to copy the YouTube content is illegal if you are copying the copyrighted content. However, as long as you are using those downloads for personal use and do not share it, there may be nothing you need to worry about. 
After we explained the legality of downloading YouTube videos, here comes another question: 
How do I download music from YouTube for free?
If you are looking to download music from YouTube, you would need to use a specific YouTube music downloader app for the purpose. Of course, there are several free and paid options that can be used to download YouTube Music. You can also make a choice between an online tool or a standalone software if you want to. 
ListenToYouTube is one of the excellent online YouTube to Music downloader and has been a popular choice for your needs in downloading music from YouTube for free. A feature-packed online YouTube to MP3 conversion tool, ListenToYouTube is a perfect option for finding and downloading the podcasts and other voice-based shows.  
A few of the features observed on This YouTube Music Downloader include: 
Support for more than 1000 video sharing websites, which include Facebook, Twitter, Dailymotion and many more. 
Download videos in a full HD quality at 1080p. 
Download audio files in up to 128 Kbps. 
Support for every almost all web browsers. 
Simple to use a three-step process to download your audio files makes it one of the huge options. 
Except for the batch download and playlist download options, you can enjoy a huge number of options to download music videos from YouTube.
How to download music from YouTube using this YouTube music downloader?  
Whether you are checking the YouTube music download options on a computer or any other platforms, the method will remain the same. In fact, YouTube music downloade is an online or web-based tool, and that should make it one of the prime options irrespective of any platform or device you are on.  
Here are the steps you would work for how to download music from YouTube to computer: 
Launch YouTube
Open the video that you want to extract music from. 
Get the video URL of the video on YouTube. You can get it from the address bar or by right clicking on the video and then clicking on Copy Video URL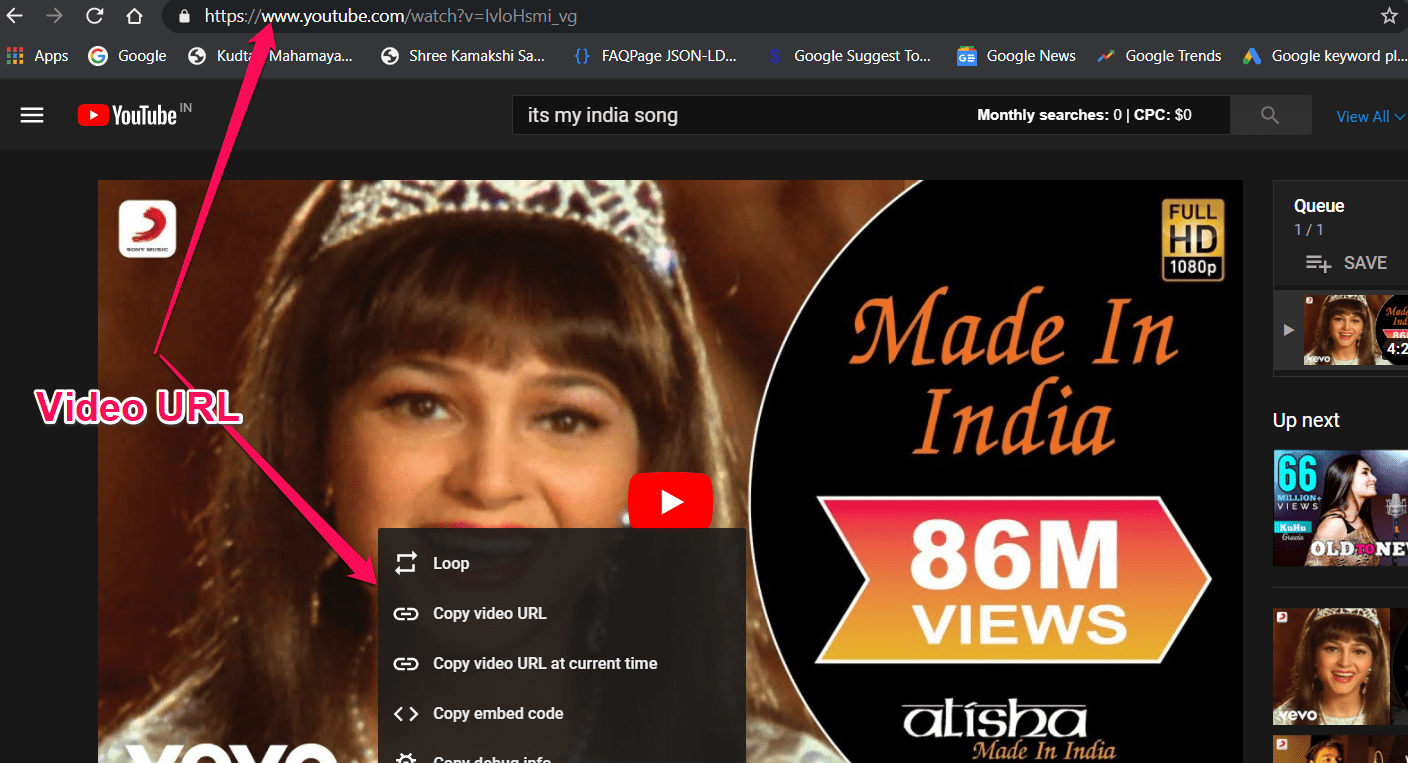 Visit  the YouTube MP3 Converter site 
Paste the video URL in the space provided 
Click on Download option 

The tool processes your video and provides you with the download options for both video and audio. 
Pick the audio bit rate you want to download music from YouTube in and click on the download arrow to begin downloading your extracted audio. 

This YouTube music downloader can be a great YouTube music downloader app, and that should ideally make it one of the prime options that will work efficiently on any platform without any sort of issues whatsoever in how to download audio from YouTube. Since it is a YouTube music downloader online, it is completely platform agnostic. 
You can simply use your Safari browser on your iPhone and visit the official YouTube to mp3 unblocked site. It can be a great option to download music from YouTube.  Once you are on this YouTube music downloade website, you can copy your YouTube Video URL in the space provided. The steps remain the same as in the case of the above tutorial for the computer. 
It can also be the right choice if you are looking to find how to download music from YouTube for Mac free. 
The method of using ListenToYouTube YouTube music download app can be quite easy and simple, and it works in the same way as in the case of iPhone and desktop versions. The functionality remains the same across any device you use it on. 
This YouTube to MP3 converter tool is an online YouTube music downloader 100% free, and it does not come with any restrictions with respect to the platform that you are using it on. The steps that you would use with the tool will remain the same. You can simply copy the video URL and use it on ListenToYouTube to download music from YouTube. 
The Bottom Line 
This YouTube video downloader could work just well as a YouTube music downloader app to download YouTube to MP3. Equipped with more than 100 technical experts, the team behind this website focuses on achieving a great YouTube video/ audio download. 
Offering you a faster download and support for a wide range of videos, ListenToYouTube YouTube Music downloader app is a one-stop solution for practically each of your requirements on how to download music from YouTube.